Deck Building by Hassle Free Contracting LLC
We are excited to offer you our comprehensive deck building services to transform your outdoor space into a beautiful, functional, and enjoyable oasis.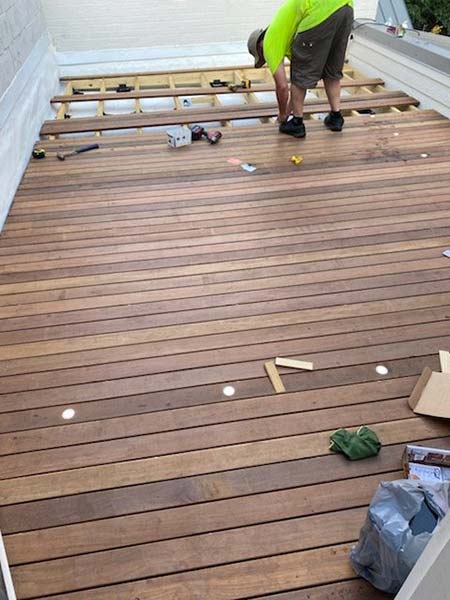 Hassle Free Contracting LLC specializes in designing and building custom decks for residential and commercial properties. Whether you're looking to renovate your outdoor living area or want to create a unique space to entertain guests, we've got you covered.
Here are the different deck services we offer:
Deck Design:
Our team of experts will work with you to create a custom deck design that meets your specific needs and preferences. We'll take into account the size of your outdoor space, your desired style and materials, and any other features you want to include.
Deck Building:
Once you've approved the design, our skilled contractors will build your deck using high-quality materials and the latest techniques. We'll ensure that your deck is sturdy, durable, and built to last for years to come.
Deck Repair and Maintenance:
After deck building, every beautiful deck may need maintenance. Also, if your existing deck is in need of repairs or maintenance, we can help. Our team has the expertise to fix any issues with your deck and ensure that it's safe and functional. We can also provide regular maintenance to keep your deck looking its best and prevent any potential problems from arising.
Deck Restoration:
If your deck has seen better days and needs a facelift, our deck restoration services can help. We'll clean and restore your deck to its former glory, giving it a fresh new look that you can enjoy for years to come.
At Hassle Free Contracting LLC, we understand that every deck is unique, and we take pride in creating custom designs that are tailored to our clients' specific needs and preferences. We use only the highest quality materials and the latest techniques to ensure that your deck is built to last.
Contact Us Today
Give us a call at (757) 966-1809 to schedule a consultation with our team and learn more about our deck building services. You can also visit our Facebook page for more information and to see examples of our work. We look forward to working with you to create the deck of your dreams!